Extensive activities are our strength
As the largest commercial estate agency in Denmark, we are able to help you with all your property-related matters. From valuation and sale, to the conversion of your property or even property management of your buildings.
Are you planning to sell, expand or is it time for a next generation takeover? Do you experience any idle time with your tenancies? Or do you need a hand with developing or finding an alternative application for your property?
We know that you have to handle many different activities as a business operator. As the largest estate agency in Denmark, we are aware of the extensive nature of the tasks related to owning a commercial property. And this is where we prove our strength.
EDC Erhverv Poul Erik Bech has a nationwide estate agency network with 17 commercial centres located all over the country. We also have more than 50 estate agency shops, project departments in the eastern and western region of Denmark, a property management centre as well as a company offering property and construction advice. This means that we can help you with all your property-related activities – from valuation, sale and letting, to the conversion or optimisation of your property as well as advice on the construction of new commercial or residential buildings or even the management of your property.
We offer the complete management of your property.
Local knowledge and nationwide cooperation
Our major strength is that we have 17 local commercial centres with extensive local knowledge, each representing a strong business partner if you wish to sell or let your property. Our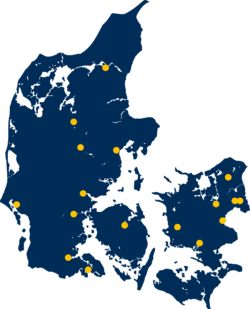 commercial centres also cooperate nationwide to solve your challenges – whether it is to help you sell your property, find the next property for your portfolio or find a new tenant for your vacant tenancy. Sometimes the buyer or tenant comes from different parts of the country, and here we can offer our advisory services.
Our approach is that nationwide clients will have one regular contact who will put together the right team for the task – whether expert competencies or local sales teams are required to sell the property or find a tenant. In this way, we will keep an eye on the market for you, both locally and nationally.
How we add value for you during the process:
1 Sales strategy and competent research department
After the conclusion of our agreement, we prepare a sales strategy for your property or portfolio. Here, the right competencies will be recruited, whether these are experts or local sales teams. We will involve our competent research department in this process, which will have the required insight and documentation to help prepare the right sales strategy.
2 Large in-house marketing team
The marketing of your property is decisive for the success of selling or letting your property. At EDC Erhverv Poul Erik Bech, we regard marketing as a central part of our advisory services. We have a large in-house marketing team with an eye for new digital opportunities which always seeks to focus on providing you with a targeted solution. And targeted is really the keyword because an office building should not be marketed in the same way as an empty shop. Therefore, our set-up includes a strategy for the selection of channels and messages aimed at attracting the most interest from the target group. Furthermore, as the largest estate agency in Denmark, we have ensured that our solutions are cost-effective and add value for money.
3 Most extensive file of buyers/tenants in Denmark
We also add value with our extensive file of buyers/tenants. We spend a lot of resources on keeping our file updated, which will add value for our clients. Actually, we are in regular contact with the persons in our file in order to be up-to-date with their requirements and to qualify them. When you put your property up for sale or letting with us, we will be able to check our file for interested buyers and tenants from day one.
4 Ejendomstorvet – the largest property portal in Denmark
EDC Erhverv Poul Erik Bech use Ejendomstorvet, which is the largest property portal in Denmark, as a marketing platform where all our properties and premises on commission will be displayed. In this way, we ensure the best display potential for your property and premises in relation to relevant buyers or tenants.